Fermenter for bio-fertilizer production is a complete set of equipment specialized in handling organic waste such as animal and poultry manure, food waste, and domestic waste. To realize resource utilization of organic waste, the organic matter is biodegraded and decomposed by the activity of biomass in high-temperature aerobic fermentation, so that the organic waste is transformed into bio-organic fertilizer, which is used for soil improvement and landscaping.
What Are The Raw Material for Bio Fertilizer Fermentation?
The fermentation tank is suitable for mixing various ingredients of powdered and liquid materials. It has the advantages of wide applicability, less material residue and easy maintenance. Certainly, it is the ideal equipment for dealing with diverse organic wastes.
Furthermore, as the professional producer of fermentation equipment for production of bio fertilizer, we can make horizontal fermenter with a capacity ranging from 5-50m³ or vertical fermentation compost machine with a capacity ranging from 5-150m³ based on the needs of the customers.
Actually, our equipment takes only 10 hours to finish the harmless treatment process while occupying less land, emitting no pollution, and thoroughly destroying pest eggs. Therefore, it is the best choice to realize waste resource utilization for the majority of breeding enterprises, recycling and ecological agriculture.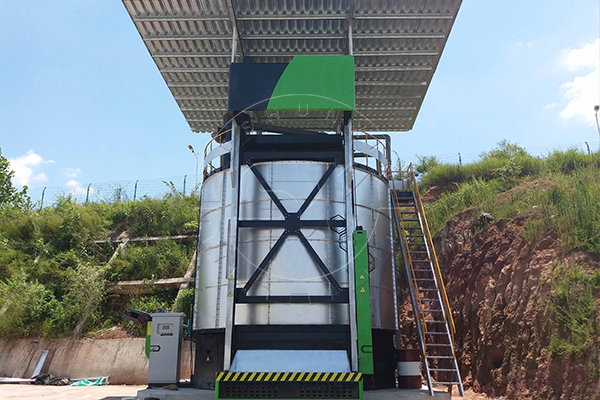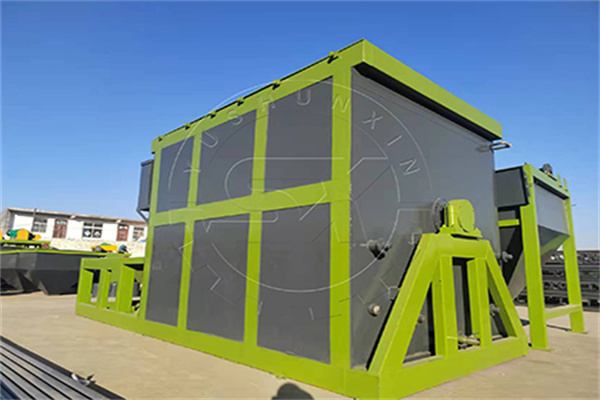 Automatic System in Fermenter for Bio-fertilizer Production
What Is Fermentation Procedures in Biological Waste Disposal?

In Fermenter for Bio-fertilizer Production
It includes four steps of feeding, high-temperature aerobic fermentation, material discharging and stable storing treatment.
In addition, the entire process is highly automated, fully closed, and will not generate secondary pollutants, of which the most important link is the aerobic fermentation part.
How Does A Fermentation Pot Work?
The fermentation tank operates on the principle of aerobic microbial fermentation, which allows microbe to multiply fast by using the organic matter and residual protein in animal and poultry dung under specified temperature, humidity, and oxygen levels.

In the process of reproduction, they consume organic matter, protein, and oxygen in manure and metabolize it to produce ammonia, carbon dioxide (CO2) and water vapour. At the same time, a considerable amount of heat is emitted, raising the temperature inside the tank.

The high temperature in the range of 50℃-70℃ can further promote the growth and metabolism of microbes, whereas the temperature above 60℃ can kill harmful bacteria and pathogens, parasite eggs and other harmful substances in manure, while balancing the temperature, humidity, and PH value which are the conditions for maintaining the survival of beneficial bacteria.
Advantages & Features of Fermenter for Bio-fertilizer Production
In vessel composter, it adopts high temperature fermentation technology with low energy consumption and low operating cost; the temperature within the container composter may reach 80-100°C, which can completely kill harmful bacteria. Besides, the tank is completely enclosed, so the fermentation process is unaffected by the outside environment.
Single equipment only covers an area of 10-30㎡ with high mechanization and integration, which can be installed outdoors without new plant as well as high investment costs.
There is one person needed to control the entire fermentation process, which avoiding direct contact between people and materials. It's easy to operate and saves labour costs.
Organic compost conversion rate of up to 90% of the amount of organic waste. It makes regular stirring of raw materials with good stirring fermentation effect. Futhermore, productivity is dramatically increased, and fermentation time is obviously reduced.
The main body of the equipment is made of corrosion-resistant stainless steel, resulting in a long service life. Besides, the main body of the equipment is made of high-performance thermal insulation material in polyurethane, equipped with an auxiliary heating system. Thus, it can operate properly in low-temperature situations, reducing the impact of environmental temperatures on the fermentation process.
It is fitted with a deodorization device, with a 99% deodorization rate. Therefore, the foul odor created during the fermentation process is collected and treated centrally to achieve the standard emission of gas, while causing no secondary contamination to the surrounding environment.
Main Technical Parameters of Fermenter for Bio-fertilizer Production
Model

Heating Power

(kw)

Stirring Power

(kw)

Feeding Type

Dimensions

(mm)

SXFT-10

4
11
Conveyor
2400×2400×6900

SXFT-20

4
18.5
Conveyor
3100×3100×6500

SXFT-30

4
7.5
Bucket

4000×4000×7000

SXFT-100
4
7.5
Bucket

5000×5000×8500
Note

: 

The

 

data

 

is only

 

for reference

. Please contact us!