Organic Granular Fertilizer Making Machine
How to Choose The Right Organic Granular Fertilizer Making Machine?
Organic Granular Fertilizer Making Machine are divided into different types based on the granulation method, mechanical structural characteristics (principles). Our company has introduced the following granulators that are commonly used in the market: disc granulator, organic fertilizer polishing machine, flat die granulator, and new type organic fertilizer granulator.
Here, we will give each fertilizer manufacturer a specific introduction to the working principle, raw material selection and characteristics of these granulators.
1. Disc Granulator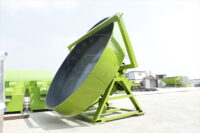 Disc granulator (also known as the ball plate or pan granulator), is often chosen by users as the associated equipment of organic fertilizer production line.
Capacity: 0.02-6t/h.
Notes: The following elements influence the disc pelletizer: disc diameter, installation angle, edge height, rotary speed, amount of liquid sprayed, and scraper position.
After materials enters the disc, they stick together effectively to produce particle shapes by the rotary function and the spray equipment.
With the continuous rotation of the motor, the large particles float to the top and are discharged through the outlet, while the small particles continue to combine with new materials until they are discharged.
This step realize mass production and achieve the need for continuous work.
As a kind of granulation equipment from fine power material, except for organic waste, the disc granulator can be applied to treat various non-viscous materials in the state of powder, granular or small pieces, such as coal powder, cement, clinker, limestone, shale, coal gangue, clay, etc.
Granulation rate up to 93%; large output.
Intuitive operation; being adjusted at any time.
Great flexibility of raw materials; wide range of finished product granularity.
Smooth operation; durable equipment; long service life.
Disc granulator price is the lowest of all granulators.
Dust and exhaust gas are prone to overflow and cause environmental pollution.
High requirements for materials: large mesh, small particle size, thin fibers; good bond strength, no change in the nature of raw materials when encountering water, clay, oil and other adhesives.
Drying procedure is required after granulation by disc pelletizer.
2. Flat Die Granulator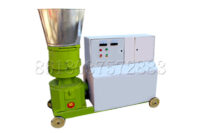 Flat die granulator is a device that uses extrusion rollers and molds to extrude, and produces columnar particles with a diameter of 2-8mm. In the later process, you can make the columnar particles to balls by the organic fertilizer polishing machine.
The flat die granulator is based on the mechanical circular motion and powered by an electric motor.
Under the action of friction, the extrusion rollers rotate themselves and the temperature is increased between them and materials, which the high temperature causes the material to melt.
When working, the flat die granulator uses extrusion rollers and molds to extrude materials that are pressed into strips through the small holes of molds.
Finally, while discharging from the outlet, strips are cut to a certain length by cutting knives for finished products.
Flat die granulator is ideal for coarse fiber granulation such as wood chips, straw, rice husk, cotton stalk, weeds and other kinds of agricultural waste, as well as domestic garbage, waste plastics, and industrial waste.
It is useful for granulation and briquetting of materials with low adhesion rate and difficult to shape.
Before granulation, you can primarily process the raw materials after batching without drying and crushing, which can save a lot of energy.
Granulation rate up to 90%; the processed granules of uniform granularity and high organic content; no binder required in pelletizing.
High particle strength; high finished products rate; direct screening after granulation.
Small equipment size; small occupation area; high degree of automation.
Low production capacity; high equipment cost.
The material needs low water content and high cohesiveness.
Serious wear of roller surface and molds.
3. Novel Organic Fertilizer Granulator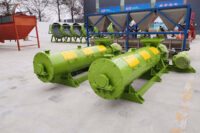 New type organic fertilizer granulator is the hottest product in the market, and it is also widely favored by customers.
The processed particle shape is spherical, with a sphericity of about 0.7. The particle size is generally between 0.3-3 mm.
New type organic fertilizer granulator 
makes use of high speed rotary mechanical agitation force and the resulting aerodynamic force to make fine power materials continuously achieve the process of mixing, granulation, balling and densification in the machine, so as to achieve the purpose of granulation.
In addition, you can adjust the size of the particle diameter by the amount of material mixing and spindle speed. The lower the mixing amount is, the higher the speed is, the smaller the particles are, and vice versa.
New type organic fertilizer granulator is suitable for granulation of light fine powder materials. The finer powder materials, the higher the particle sphericity, and the better the ball quality.
The general specifications for materials should be less than 300 mesh size is appropriate. Typical application materials are chicken manure, pig manure, cow manure, straw, kaolin and other organic waste with moisture content of 20%-40%.
Strong production capacity; simple principle; fast granulation speed; high quality products.
Qualified granulation rate up to 90%; the large ball rate is less than 15%; wide adaptability of raw materials.
Smooth operation; durable equipment; long service life.
Large equipment size and large occupation area.
Subsequent drying and cooling is necessary, and the equipment price is relatively high.
4. Organic Fertilizer Polishing Machine
To improve the appearance of fertilizer granules, our business developed the organic fertilizer polishing machine, which ideal equipment for making spherical granules of organic fertilizer (biology).
Organic fertilizer polishing machine consists of two or more rounding cylinders arranged in sequence, and the discharge port releases materials after centrifugal polishing for several times.
It is appropriate for the granule polishing of organic fertilizer like chicken manure and other livestock manure as the primary raw material, as well as compound fertilizer.
Its usage is on the basis of granulators. Thus, you usually use it to polish granules produced by the extrusion granulator and disc granulator, which makes pellets more beautiful.
High output; flexible arrangement: You can install single or several polishing machines at the same time.
Granulation rate up to 95%; consistent granularity of the finished product; round and smooth surface; high granule strength.
One-step forming; no return material; less energy consumption and low production cost.
Through the above systematic introduction of different types of organic granular fertilizer making machines' principles and applications, we believe that you will not be confused when choosing appropriate equipment.
Choose a good granulation equipment for you long-term fertilizer production to save energy and improve efficiency!