Fertilizer Bagging Machine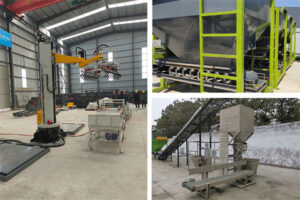 The fertilizer bagging machine (also calls scale), is a type of intelligent packaging machine that is specially designed, produced, and customized to meet the needs of various materials. Furthermore, it is used in industrial and agricultural automation production automatic quantitative packaging, and the entire weighing process is managed by computer and is completed automatically.
In a complete fertilizer production line, the packaging machine completes the final process. Packaging machines are classified as granular packaging machines and powder ones. The corresponding packaging machine is used for which shape of fertilizer is produced.
We are a professional automatic packaging machine factory and manufacturer in China. Moreover, our products contain automatic palletizer and single (double) bucket automatic packaging scales, which have reasonable structure, beautiful shape, smooth operation, energy and power saving, easy operation and accurate weighing.
Single (Double) Bucket Automatic Packing Scale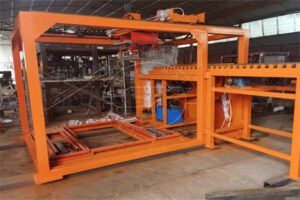 The automatic quantitative packaging machine, which is classified as single bucket packaging scale and double one, is a mechanical device used for quantitative weighing and packaging of granule and powder shape of bulk materials. Meanwhile, it primarily adopts integrated structure and high degree of automation, which improves product packing quality.
This fertilizer bagging machine is widely used for granule and powder packaging in chemical, fertilizer, construction, food, pharmaceutical and other related industries.
The quantitative packaging machine has automated and semi-automatic types. It stand to reason that semi-automatic equipment is still more popular, for fully automatic machine will be significantly more expensive than it.
How An Automatic Quantitative Packing Machine Works?
It is made up of hopper, feeder, weighing mechanism, discharge hopper, belt conveyor, and sealing machine.
When there is enough material in the hopper, it enters into feeding machine by gravity, and the gate is totally open and materials are fed in large quantity. The larger gate is closed when the specified feeding weight is attained.

Simultaneously, the fine feeding vibration device continues to feed until it reaches the predetermined weight, at which point all feeding doors are closed.

Through a certain air blanking, the weighing bucket is stable. And after the tray holds the bag steady, the discharge door opens, and materials are fed into the hopper and fall into the bag.
Features & Advantages of Fertilizer Bagging Machine
1

The fertilizer bagging machine is unlimited by the packaging container; it is suitable for the use of a wide range of material types and packaging specifications on frequently changing occasions.

2

You can achieve automatically measurement and weighing by the electronic scale, overcoming the weaknesses of measurement error generated by changes in material specific gravity.

3

The digital display is easy and intuitive, so the packaging specification and speed are adjustable, the working condition is changeable at any time, and the operation is simple.

4

We design the weighing control system for dust prevention and waterproofing, with no environmental pollution.

5

The main body is made of stainless steel, resulting in a long service life, and has features of high integrality, small space, consistent mechanical performance, and easy installation.

6

The main engine, conveyor belt and controller are networked; it has high precision and speed, ensuring humane operation and decrease labor intensity.

7

More energy-saving discharging is through gates with infrared sensor sensing induction.
Application of Automatic Quantitative Packing Scale
The Use of Automatic Palletizer in Bagging of Fertilizer
The stacking method of automatic palletizer is flexible and fast that replaces manual handling and loading and unloading. Thus, it can ensure workers' safety and realize automation, intellectualization, unmanned production, and standardization. It also has the potential to considerably improve working efficiency as well as mechanization and automation.
Process of Palletuzing
Picking bags, setting bags, metering, filling bags, unloading bag, sewing bags, changing alternate direction and conveying are carrying out automatically.
Units of The Automatic Palletizing Production Line
Automatic quantitative packaging machine, automatic bag loading unit, sealing system, metal detector, weight checker, GZZS, ink-jet printer, automated palletizing robot, etc.
How Automatic Palletizer Works?
Firstly, the workpiece on the flat plate meets the requirements of the pallet, and the flat plate and the workpiece move forward until the vertical plant of the pallet.
Secondly, you should lower the upper stopper lever , and start to clamp the other three positioning stopper levers. At this time, you don't forget modifying the plate.
Thirdly, you pay attention to each workpiece that lower them to the plane of the pallet that is 10mm away from the bottom surface of the plate.
Then, you may reduce the pallet by one workpiece height.
Finally, repeat the above until the pallet stacking reaches the set requirements.
Scope of Application
This fertilizer bagging machine mostly occurs in chemical raw material plants, automatic packing scale factory, as well as petrochemical, fertilizer, grain, port, and other industries to perform automatic packaging palletizing operation for powder and granular materials, which is convenient to store, transport and sell. It can also carry some large volume objects.
Some products are harmful and dangerous, like drugs, feed, fertilizer, flour, cement, microbial preparations, etc. Automatic palletizing robots can make full use of these products.